Lots of websites runs refer and earn program where share own referral code free and earn money like bonus, commissions, real cash, prizes and other rewards.
Referral code is alpha numeric code which issues by particular website and valid on their platforms only. When anybody uses at the time of sign up or apply in promo code field will rewarded both referred & referee.
Wants to earn good money from referral code. Then definitely you have to refer lots of users. Manually shares with friends then you can't achieve huge bonus but here we will give you free referrals.
Internet is the best place to viral referral code like social media or featured on high traffic websites. When your referrals increases too fast, Your bonus or commissions will rocket.
TheReferCode
gives options to our users to share their own referral code without need of sign up, login or any type of membership to get free referrals from our website. So our readers will use it and you both will be benefited.
Getting referrals after sharing code here is completed depend on our that page traffic. We are doing very hard to rank it and spending dollars on promotion. It takes only 5 to 10 seconds to feature referral code on our website. Rest we will do to increase your referrals.
Why people will use your referral code ?
Readers finds the code online before making account on websites to grab sign up bonus, Without using it. They will not eligible for bonus. So they will come on our website and free to use any code of that website.
Another thing some websites limit on referring friends like only 5 referrals will be eligible from invite code. In that case, Readers gets lots of referral codes option from our website. If any code not works then they can try other one.
Benefits of sharing referral code on therefercode :
Here is some benefits which you will get if shares the referral code on our website.
1. Free
As i seen on internet some websites charges for sharing referral code or article on their website but on sharing referral code on therefercode is completely free.
2. No sign up
There is no sign up or email verification requires to share referral code here. Lots of websites available on internet which gives option to share referral code free but restricts to their members only. Not available for guests.
3. Fast & easy
No any special task to share refer code here, Only name , offer details & code requires to get approval of referral code. Once its approves, World wide users can see your referral code details and use it.
How to share referral code on therefercode ?
Here is the steps which you need to follow if you wants to feature your refer code on our website and boost referrals free.
Let's come its very simple :
1. First of all, Find that post on our website using search option or navigate to that page only. Suppose you wants to share wazirx referral code free then visit that article on your device.
2. Are you new user then read the article or already have a referral code then go to the bottom of page. You will see form to share your code free.
3. Here enter your name, email, referral code and offer details. Submit the form, That's it.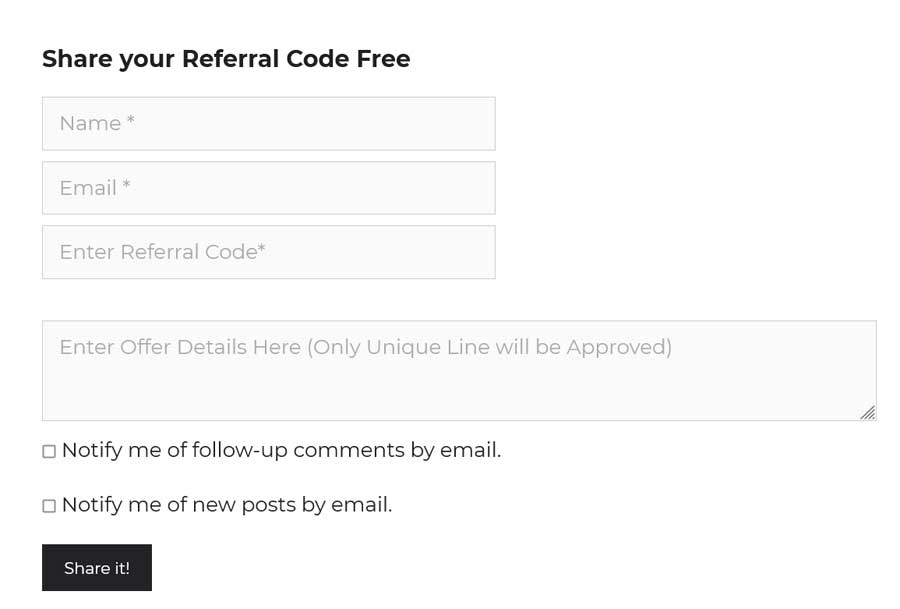 4. Within some hours, It will be approved if everything rights and shows publicly. This can be usable by world wide users. Without doing anything , Your referrals will increase automatically.
How to show on first place ?
If your offer is good from other users then you will get more likes and your refer code will show on top.
How to updated about new referral codes post ?
Thousands of websites running refer and earn campaign but not every post will see here but you can request by contact us option or subscribe our updates so you will automatically notify.
Subscribe our telegram channel or Push notification where you will notify about new referral codes. Simply visit from that links and share your referral code free.
Conclusion
Apart from this, Share own referral code on reddit, facebook, twitter, instagram etc. Here check the performance of referral code also and getting more likes will show on top.
This will take nothing except 5-10 seconds to share referral code on our website. I recommends to share every website code here and get benefited in free. Will definitely get something